PERAMALAN HASIL TANGKAP IKAN LAYUR DI PELABUHAN PERIKANAN NUSANTARA (PPN) PRIGI DENGAN MODEL MULTISCALE AUTOREGRESSIVE (MAR)
Keywords:
MAR, Peramalan Perikanan Tangkap, Demersal
Abstract
Ikan layur merupakan sumberdaya ikan demersal dominan dan merupakan komoditas eksport dengan permintaan tinggi di Pelabuhan Perikanan Nasional (PPN) Prigi. Beberapa tahun terakhir terjadi tekanan penangkapan besar-besaran dari nelayan setempat, sehingga menyebabkan semakin menurunnya produksi ikan layur per unit alat tangkap pancing sebagai alat tangkap standar untuk keperluan eksport. Peramalan produksi ikan layur satu tahun ke depan akan dapat membantu rencana pengelolaan sumberdaya perikanan layur. Penelitian ini menggunaan transformasi wavelet untuk meramalkan produksi ikan layur, yaitu dengan membentuk model Multiscale Autoregressive (MAR) yang prediktornya diperoleh dari dekomposisi Maximal Overlap Discrete Wavelet Transform (MODWT) dengan filter wavelet Haar. Model peramalan wavelet terbaik dibentuk dari model MAR orde 2 yang prediktornya diperoleh melalui dekomposisi MODWT level 1, yaitu setelah data distasionerkan secara detrending. Hasil peramalan produksi ikan layur di PPN Prigi untuk satu tahun ke depan (September 2018 sampai dengan Agustus 2019) akan tetap mengalami fluktuasi yang berkisar antara 4.94 sampai dengan 5.15 kilogram.
References
Setyohadi, D., Martinus & A.M. Hariati. 2005. Biologi Dinamika Ikan Eksploitasi Sumberdaya Ikan Layur di Perairan Selatan Jawa Timur serta Alternatif Pengelolaannya. Jurnal Penelitian Ilmu-Ilmu Hayati, Lemlit Universitas Brawijaya, Vol. 17, No. 1, pp. 6-13.
Renaud, O., J.L. Stark & F. Murtagh. 2002. Wavelet Based Forecasting of Short and Long Memory Time Series. Geneve: Departement d'econometrie.
Percival, D.B. & A.T. Walden. 2000. Wavelet Methods for Time Series Analysis. Cambridge: Cambridge University Press.
Popoola, A. 2007. Fuzzy-Wavelet Method for Time Series Analysis. England: Submitted for the Degree of Doctor of Philosophy from the University of Surrey.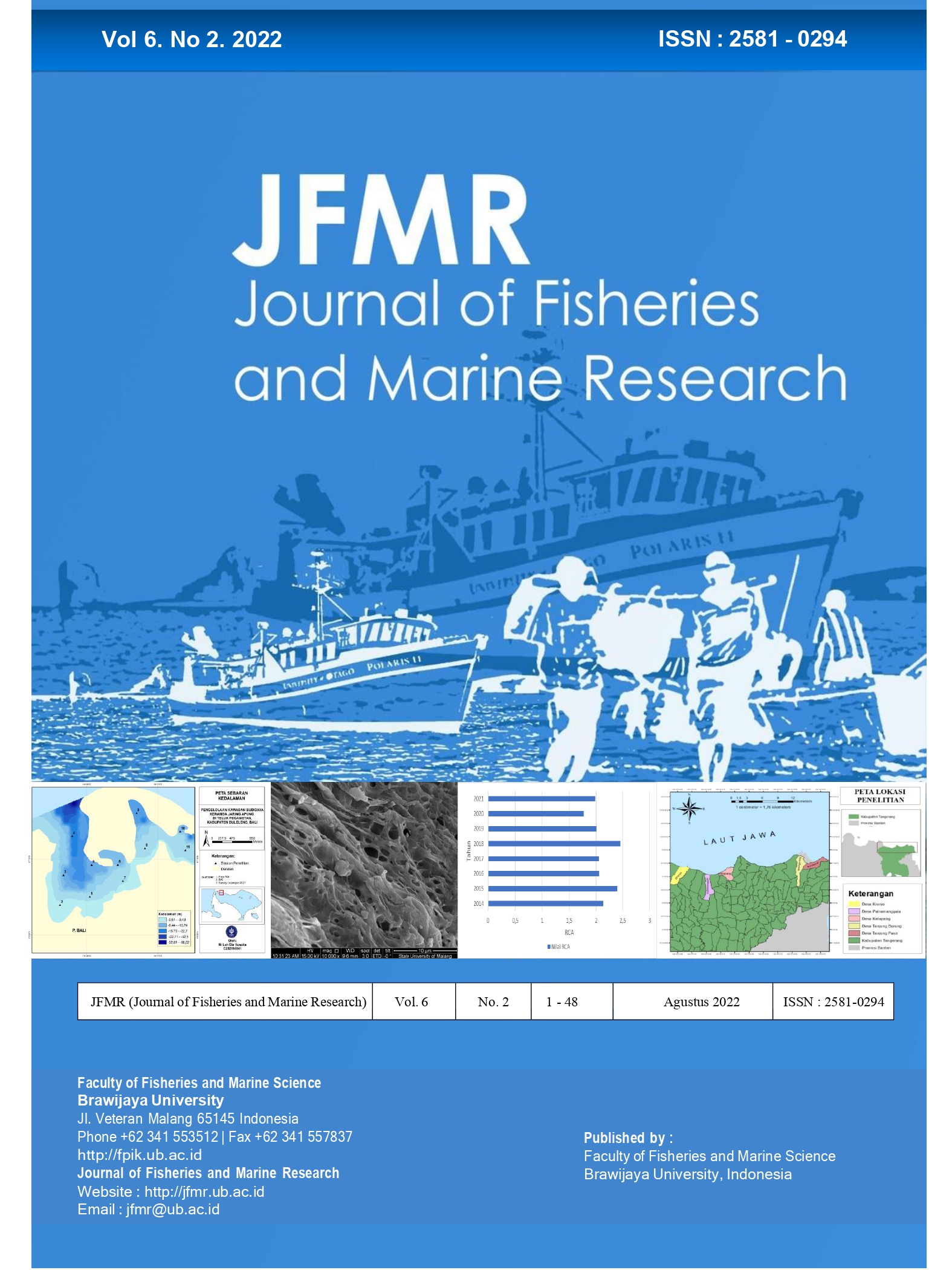 Downloads
License
Submission of a manuscript implies: that the work described has not been published before (except in the form of an abstract or as part of a published lecture, or thesis) that it is not under consideration for publication elsewhere; that if and when the manuscript is accepted for publication, the authors agree to automatic transfer of the copyright to the publisher.